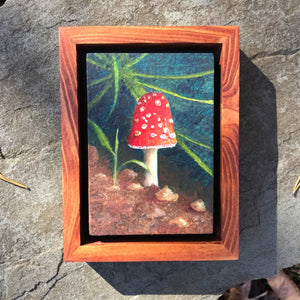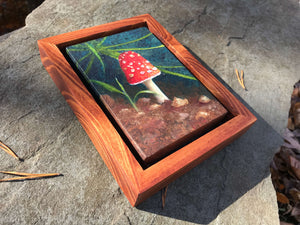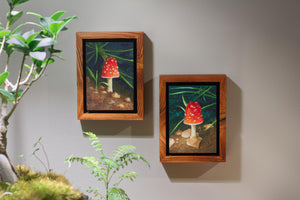 Amanita Muscaria Mushroom 3 | Original Painting
Small oil painting of the classic red and white toadstool.

Framed in a Hopkins original, handmade, Lebanon Cedar solid wood frame.
Artwork size: 3.5" x 5"
Framed size: 5" x 6.5"
Arrives ready to hang.
Packaging
Prints are enclosed in a protective plastic sleeve with a stiff backing board for protection against moisture and damage from bending.
Every order comes gift-ready in a white, Tiny Pine Art branded envelope and is finished with an embellishment of green satin string and bronze wax seal.
Shipping, Returns, Exchanges
Shipping
Due to COVID-19, printing and shipping times have become notoriously delayed as companies are limiting people working in their facilities at the same time. Typically, orders are processed within 1-3 days of purchase. At times, this can be delayed by about a week. Please keep this in mind as you make your purchase.
Ships in a sturdy, corrugated cardboard box to protect from bending during transit.
Once shipped, orders typically arrive within 2-5 days. During busy holiday times, be sure to order with plenty of time to spare in case of delays. We are not responsible for delays in shipping.
Returns, Exchanges, Refunds
At this time, I am not accept returns or exchanges, however, if there is a problem with your order, please contact me and I will be happy to correct it.
If damaged in transit, you can file a claim with the postal service here: https://www.usps.com/help/claims.htm
If you accidentally entered the wrong shipping address when you placed your order, please email me as soon as possible with your corrected address and order number. If I haven't shipped out the order yet, then I will adjust the address. Once the order ships I'm not responsible for the delayed delivery or cost to reship the items and you. Once it's sent to the wrong address, there's nothing I can do unless the package is sent back to me by the recipient. If I receive the item back, I will contact you immediately and we can set up an invoice for the additional shipping charges.
Love it! Shipped on time and arrived beautifully packaged. Art work origional and unique. Gifts to friends and they loved them!
Nettie
Beautiful! Even the envelope is beautiful, a lot of care went into packaging and the print is gorgeous. Very talented artist!
Jennifer
"Everything I create is rooted in a deep appreciation and respect for the natural world. Whether my inspiration grows in my own garden or appears as a fleeting moment of magic experienced out in the wild, I am compelled to capture it through the lens of my paintbrush. I hope my pieces inspire wonder and delight in the wilderness and I would be honored if their story continued with you - in your homes and with your loved ones."
- Courtney
Keeping nature wild
I want to do what little I can to keep the wild pristine and to prevent it from being just a memory in a painting. Each year I'll donate a portion of my proceeds to the Nature Conservancy of Virginia to help protect our natural resources from the Appalachian Mountains to the Chesapeake Bay Watershed.
I commit to using environmentally friendly, reusable, and/or recyclable materials in my production and packaging materials whenever possible.